Net Theory is excited to announce the launch of the new Caviar Russe eCommerce and restaurant websites. As the largest caviar importer to the United States, and the proud recipient of a Michelin Star five years running, Caviar Russe is a luxury brand on the rise. Their online business has grown rapidly year after year, thanks in part to our phased approach to building their custom eCommerce and restaurant sites.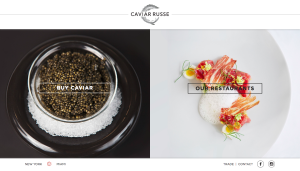 Each year, we have introduced new functionality and design elements to the eCommerce site, intended to deliver memorable customer experiences and exceed business goals, including: Related products to complete the customer experience, one-click cloning of previous orders, Apple Pay integration, single-step checkout for returning customers, and automatic coupon codes for partner websites.
With this new site launch, 2018 is no exception. The new design is our cleanest and most accessible yet, creating an elegant and intuitive user experience. We have introduced a Quickshop function, enabling customers to maneuver product category pages with ease and see their products at a glance, in their Minicart.
Products are now added to the Minicart from anywhere, meaning customers can add multiple products without being directed to a dedicated cart page.
For the restaurant, we wanted to craft a sophisticated, photo-rich site that would capture the essence of the Michelin-starred Caviar Russe dining experience. Beautiful shots of the cuisine and restaurant fade in upon load, filling in half the screen and leaving the other half for menus and information, much like a physical menu.
The reservations functionality, integrated with OpenTable, descends elegantly from the top of the screen, dimming the surrounding content.
Web design and development trends happen so fast, and it's a lot of fun to look back on past iterations and see just how much we have grown. But it's more enjoyable to appreciate that what is current will always be replaceable. We're constantly challenging ourselves to find new ways to contribute to our clients' success, to ensure that down the road, we'll be ones doing the replacing.